Home Stretch by Leroy Anderson: official website, complete reference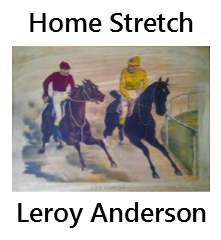 Composition:
"Home Stretch"
Composer:
Leroy Anderson
Copyright:
© 1962, 1965 (Renewed) Woodbury Music Company LLC
Completed:
June 16, 1962
Instrumentation:
Full Orchestra
First Performance:
June 19, 1962, Leroy Anderson, during a recording session for Decca Records, New York, New York
First Concert Performance:
June 27, 1965, Leroy Anderson, Miami Beach Philharmonic, Miami Beach Marine Stadium (7,000 people in audience)
Recorded by Leroy Anderson:
1962 Decca Records, New York, New York
Length:
2:30
Published
: 1964
Transcriptions by Leroy Anderson:
Concert Band (1963); piano (1962);

Program Notes:
Home Stretch: For the last of Leroy Anderson's 33 1/3 long-playing records with Decca, the composer brought six new works to record along with numerous compositions from the Broadway musical "Goldilocks". Home Stretch is one of three Anderson pieces which depict horses. The other two are "Horse and Buggy" and "Sleigh Ride" "Home Stretch" certainly has the fastest tempo of the three.
Along with the five other new works by Anderson completed in 1962, they and the Decca record were collectively called "The New Music of Leroy Anderson"
1
. They were published by Woodbury Music Corporation which Anderson had created in 1961 in order to control the publishing rights to his music. Woodbury Music Corporation was reorganized as "Woodbury Music Company LLC in 2003.
1. "The New Music of Leroy Anderson": "Arietta", "Balladette", "The Captains And The Kings", "Clarinet Candy", "The Golden Years", "Home Stretch" and from the Musical
Goldilocks
- "I Never Know When", "Lazy Moon", "Pirate Dance", "The Pussy Foot", "Pyramid Dance", "Shall I Take My Heart and Go ?", and "Town House Maxixe".
---
Significant recordings
United States Air Force Band, Constitution Hall, Washington, D.C.; Leroy Anderson, conductor; February 27, 1972
Leroy Anderson conducted a studio orchestra in his 1962 Stereo recording of "Home Stretch" for Decca Records. 49 musicians, many of whom were the Principals of their respective orchestra sections, came to perform for the recording. They were chosen from the New York Philharmonic, the Chamber Music Society of Lincoln Center, the NBC Symphony, the Philadelphia Symphony Orchestra, Chicago Symphony Orchestra, The Goldman Band and the Beaux Arts Trio.
The studio orchestra included 10 First Violins, 6 Second Violins, 4 Violas, 4 Celli, 3 Basses, 3 Flutes, 2 Oboes, 2 Clarinets, 2 Bassoons, 4 Horns, 3 Trumpets, 2 Trombones, 3 Drummers and 1 Pianist.
Printed Music


See the Printed Music page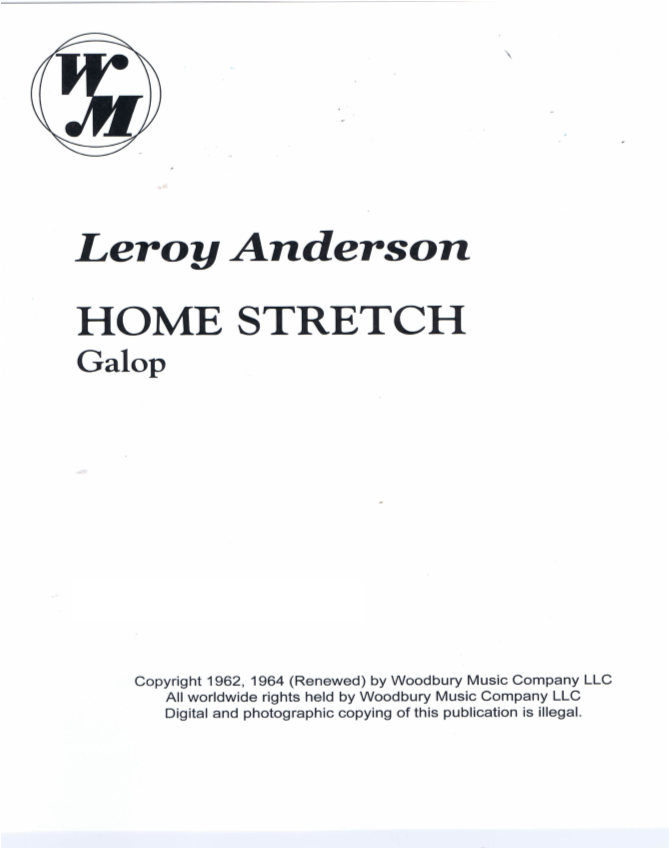 Back to Music of Leroy Anderson
↑ Top of page

Copyright
Copyrights to the music of Leroy Anderson
are held by Woodbury Music Company LLC.
For information concerning the use
of Leroy Anderson's music,
contact the Leroy Anderson family at:
info[at]woodburymusic[dot]com.
Also visit the official website
of the
Leroy Anderson Foundation
established by his family.
SITE MAP


leroyanderson.com