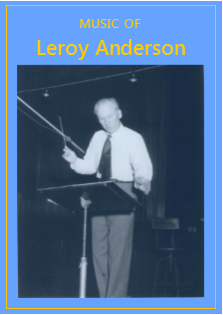 Woodbury Music Company LLC
updated January 4, 2023
Music Publisher in Woodbury, Connecticut
Woodbury Music Company is the publisher and copyright holder of music written by Leroy Anderson, well known composer of light concert music who lived in Woodbury, Connecticut from 1948 to 1975. Woodbury Music Company is a member of ASCAP (American Society of Composers, Authors and Publishers), National Music Publishers Association, Music Publishers Association of the United States and NAMM, the National Association of Music Merchants.
Founded on January 24, 1961 by Leroy Anderson as Woodbury Music Corporation, Woodbury Music was reorganized on December 23, 2003 as Woodbury Music Company LLC.
Our mission is to make the music of composer and arranger Leroy Anderson available for performance by orchestras, bands, other ensembles, soloists, music educators and students.
Also visit the official website
of the
Leroy Anderson Foundation
established by his family.