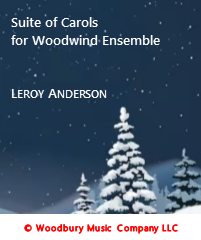 "Suite of Carols for Woodwind Ensemble"
by Leroy Anderson
Complete reference: official website, recordings, audio files, published music, performances
Composition:
"Suite of Carols for Woodwind Ensemble"
Composer:
Leroy Anderson
Completed:
June 12, 1955 Woodbury, Connecticut
Instrumentation:
Symphony Orchestra
Structure:
Suite
First Performed:
June 12, 1950, ; Leroy Anderson, conductor;
Suite of Carols for Woodwind Ensemble
1955 (11:03)
Suite of Carols for Woodwind Ensemble (1955) (six carols, 11:03)


I. Pastores a Belén - Traditional Spanish Carol
II. It Came Upon a Midnight Clear - Music: Richard Storrs Willis
III. O Little Town of Bethlehem - Music: Lewis Redner /li>
IV. Bring a Torch, Jeanette, Isabelle - Traditional French Carol
V. Away in a Manger - Music: James Ramsey Murray
VI. Wassail Song - Traditional Englsih Carol
Recordings in Chronological Order:
"A Leroy Anderson Christmas" (Decca); Recorded in 1959 for Decca Records by Leroy Anderson conducting a studio orchestra in New York, New York.


"Leroy Anderson: Complete Works" (Naxos); Recorded in 2007 for Naxos Records by Leonard Slatkin conducting the BBC Concert Orchestra at Watford Colosseum in Watford, Hertfordshire, England, U.K.
Composer quote:
"I had the idea of making a more intimate treatment of other Christmas carols; at the same time, however, I didn't just want to make medleys of them, that's the usual thing.

In treating them instrumentally, I thought I'd try to get something that would give a little more scope and be a little different.

So, after thinking it over, I decided that I would make a suite of carols. Except that the one suite turned out to be three suites because of the fact that carols have a great deal of variety.

It seemed that one particular carol would sound best with string orchestra, and another one would sound much better with a brass choir, and another would call for the color that you get from woodwinds;

I finally finished by writing three suites of carols, three different ones; one is for string orchestra, one for brass choir, and one for woodwind ensemble. I took about 18 or 19 of these carols and divided them up and made them into the three suites."

- Leroy Anderson, December 12, 19701
References:
1. Video interview by Dick Bertel for CBS Channel-3 (Hartford, Connecticut); Recorded December 12, 1970, Leroy Anderson House, Woodbury, Connecticut © Leroy Anderson Foundation, Inc.

Back to Music of Leroy Anderson


Also visit the official website
of the
Leroy Anderson Foundation
established by his family.