Governor Bradford March by Leroy Anderson: official website, complete reference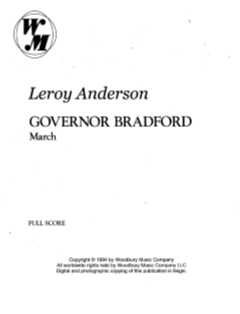 Composition:
"Governor Bradford March"
Composer:
Leroy Anderson
Copyright:
© 1994 Woodbury Music Company LLC
Completed:
1948
Instrumentation:
Orchestra
First Performance:
June 3, 1948, Arthur Fiedler, Boston Pops Orchesstra, Symphony Hall, Boston, Massachusetts
First Recording:
Leonard Slatkin, conductor, BBC Concert Orchestra
Length:
2:22
Published
: 1994
Transcriptions by Leroy Anderson:
Scored for Band by Leroy Anderson 1948

Program Notes:
Composition / Premiere
Leroy Anderson composed "Governor Bradford March" in 1948 to honor Robert Fiske Bradford (1902-1983) who served as Governor of Massachusetts (1947-1949). The work was premiered on June 3, 1948 by Arthur Fiedler and the Boston Pops Orchestra in a concert which Governor Bradford attended.
Orchestra
The original orchestral score was held by the music library of the Boston Symphony Orchestra. The BSO gave the original orchestral score to the family of Leroy Anderson following the composer's death in 1975. Leroy Anderson had arranged the "Governor Bradford March" for band and had given the score to the Harvard University Band. The Harvard Band was not aware of the score's existence until 1997 when the Harvard University Band moved to its new location at 74 Mount Auburn Street in Cambridge, which was named the "Anderson Band Center".
Band
The band version of "The Governor Bradford March" was first performed in a recording session of the Harvard University Wind Ensemble, Thomas Everett, conductor, in March 1999. This recording was used in a July 4, 1999 National Public Radio program featuring the music of Leroy Anderson. The band version of "The Governor Bradford March" received its first public performance on May 30, 1999 in Orlando, Florida in a concert given by the Harvard University Band conducted by Thomas Everett.
Significant recording
The original orchestral version of "Governor Bradford March" was recorded by Leonard Slatkin, conductor, and the BBC Concert Orchestra in 2007 for Naxos Records. This is a premiere recording of the orchestral score.
Printed Music


See the Printed Music page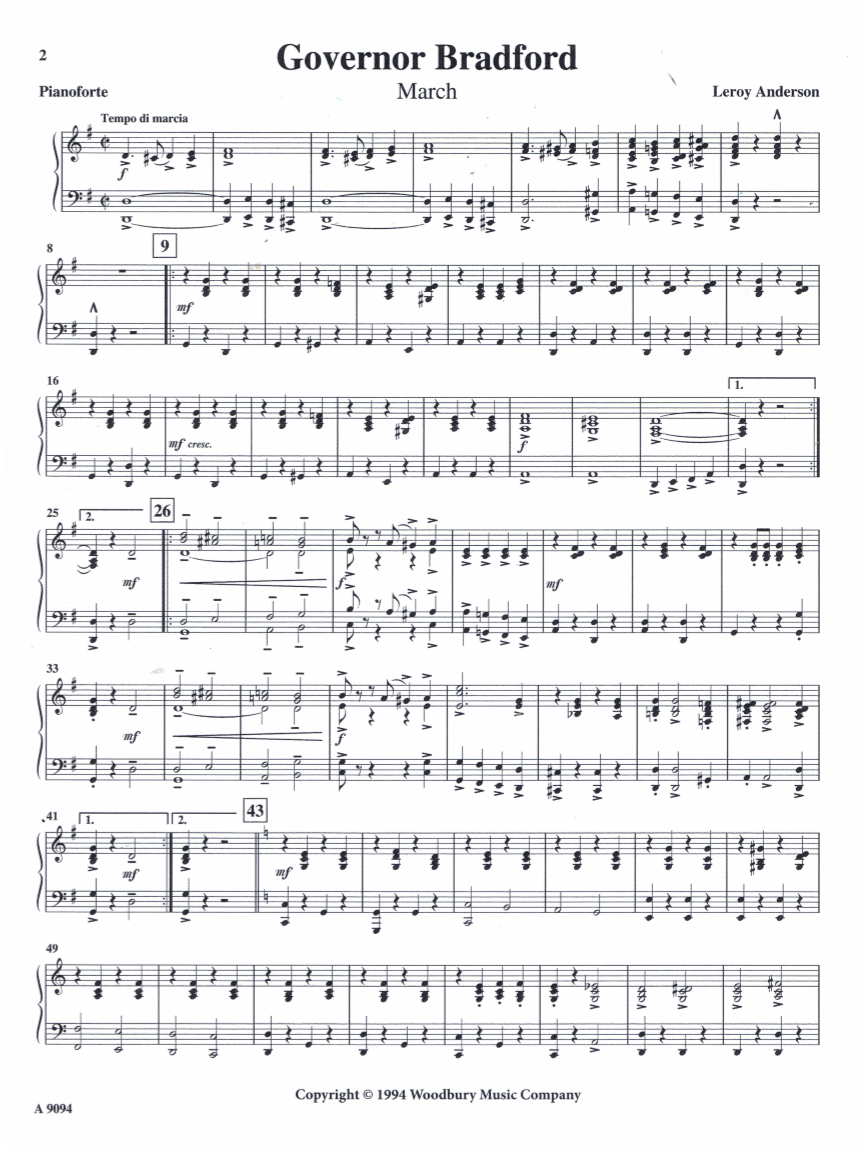 Back to Music of Leroy Anderson
↑ Top of page

Copyright
Copyrights to the music of Leroy Anderson
are held by Woodbury Music Company LLC.
For information concerning the use
of Leroy Anderson's music,
contact the Leroy Anderson family at:
info[at]woodburymusic[dot]com.
Also visit the official website
of the
Leroy Anderson Foundation
established by his family.
SITE MAP


leroyanderson.com